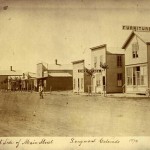 Approximately 14 miles from Boulder, Longmont is in the northeastern corner of Boulder County. With an excellent view of Longs Peak (, one of Colorado's famous Fourteeners, and within striking distance of Rocky Mountain National Park, the population of Longmont has grown to over 80,000. Originally called The Chicago-Colorado Colony, Longmont was an agricultural town, and since has become more technology-based. In 2006, Longmont was declared an "All American City" by the National Civic League. Longmont has a higher number of people who both live and work in the city than do most other cities … with a high concentration of software-related jobs. There is an air-traffic control center located in the city.
History of Longmont
Before there was a Longmont, there was a Chicago-Colorado colony.
And before there was a colony, there were three men who decided where to put what would become a city of 90,000. The three were a newspaper magnate, a businessman and a Chicago man with a rich aunt. From what historians can tell, the three filed the colony's certificate of organization on Feb. 1, 1871.
Following the gold rush of the 1840s and the Civil War in the 1860s, population was dropping rapidly in the West and the country was in the middle of an economic downturn, according to the book "The Chicago-Colorado Colony Founding of Longmont" by Mabel Downer Durning.
A rumor that thin mountain air could prevent or even cure tuberculosis -- known as "consumption" at that time -- prompted people to move west and settle along the Front Range. They were egged on by newspapermen such as Horace Greeley, editor of the New York Tribune, and William N. Byers, founder of the Rocky Mountain News.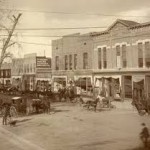 Byers, who also worked as a land agent, started recruiting colonists in Chicago for what would eventually become Longmont. He sold the city-dwellers on the idea that the colony would be based around hard work, no drinking and religion. To secure a place in the colony, Chicago residents had to pay a fee of $5. Initially, $150 secured voting rights and one lot each for a home and business.
To decide where to put the colony, Byers formed a locating committee composed of himself, Seth Terry and Peter Kelly. Terry, a one-time schoolteacher and lumberman, became the colony's first president after serving as chairman of the three-man locating committee. Kelly's aunt, Elizabeth Thompson, bought 20 memberships in the colony and gave them away to people needing to start a new life. Byers took the committee up and down the Front Range in search of a perfect spot with open land, available water for farming and proximity to a railroad line.
The three men settled on an area north of a tiny settlement called Burlington (centered around where the St. Vrain River now crosses Main Street). Other than Burlington, the 287 stagecoach route and railroad line, the area was empty.
"It was an area that looked like it would be pretty good for agriculture, but it hadn't been fully staked out as some areas had been," Longmont Museum Curator of Research Erik Mason said.
They filed the paperwork Feb. 1, 1871. Within a month, a small group of Chicago men had traveled via train to the area and built a dormitory-style building they called The Rest. Each man would build a home so his family could join him, and as the colony grew and gained a newspaper and stores, many residents in nearby Burlington moved their houses closer to the nascent Longmont.
The preceding history article is condensed from an article by Karen Antonacci in the Longmont Times-Call, Sunday February 1, 2015, Happy 144th birthday, Longmont
Chicago-Colorado Colony's certificate of organization was filed Feb. 1, 1871
Information about Longmont continues further down on this page.
Cold Hard Facts
• Population: 89,919 (2013)
• Area: 21 square miles
• Founded 1871
• Elevation 4,979
Schools
Longmont is served by the Saint Vrain School District. St. Vrain is an accredited district dedicated to success and growth. http://www.stvrain.k12.co.us
• High Schools (9th- 12th grade): Longmont, Silver Creek, Skyline
• Middle School (6th-8th grade): Altona, Heritage, Longs Peak, Sunset, Trail Ridge, Westview
• Elementary Schools (K-5th grade): Alpine, Blue Mountain, Burlington, Central, Columbine, Eagle Crest, Fall River, Indian Peaks, Loma Linda, Longmont Estates, Mountain View, Northridge, Rocky Mountain, Sanborn, Spangler
For scores of individual schools go to Colorado Dept. of Education. http://www.cde.state.co.us/cdereval
Recreation
Longmont has countless recreational opportunities. From walking, running or biking the St. Vrain Greenway Trail to swimming, classes or weights at Longmont's own recreation center, there are options for all ages to participate in. Longmont also has a YMCA. Union Reservoir offers swimming, fishing and paddling/sailing options. There are additionally 5 golf courses, multiple outdoor pools, a skateboard park, and the Rocky National Park is a short drive away. There are multiple dog parks for your canine's pleasure.
Restaurants
There are numerous dining choices in Longmont. Both locally owned and national chains are represented in the city. Your mood can dictate with such diverse options as BBQ, Asian, Italian, Mexican, Creole, American & New American, and a choice of 3 breweries. You also can choose from rooftop patio to outdoor tables to candlelit dining. Restaurants are dispersed throughout the city, with the majority being along Main Street or in the vicinity of Hover & Ken Pratt Blvd.
http://visitlongmont.org/dining/
Shopping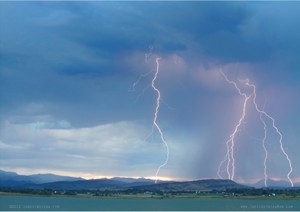 Main Street is quaint and lined with unique shops. Twin Peaks Mall was antiquated and is being replaced with Village at The Peaks. Check in for the latest openings at the mall, including the Regal Cinema theatres offering the latest technology for movie goers. That section of Hover is lined with big box stores (Target, King Soopers, Home Depot, Kohls). There are shopping centers located on Ken Pratt Blvd, just east of Main Street, including restaurants (Panera's, Friday's, Chick-fil-a) and shopping (Lowe's, Sports Authority, Bed Bath and Beyond). Conveniently, Longmont has shopping centers dispersed throughout the city with grocery stores, restaurants and mom & pop shops.
Links
City of Longmont http://longmontcolorado.gov/
Longmont Times-Call http://www.timescall.com/
Longmont Chamber of Commerce http://www.longmontchamber.org/
Visit Longmont http://visitlongmont.org/
Longmont Recreation Center http://longmontcolorado.gov/departments/departments-n-z/recreation-services/facility-information-recreation/longmont-recreation-center
Open Space http://longmontcolorado.gov/departments/departments-n-z/parks-open-space-trails/open-space
Lake Valley Golf Club https://www.lakevalley.com/
Fox Hill http://www.thefoxhillclub.com/
Twin Peaks http://www.golflongmont.com/twin-peaks/twin-peaks-golf-course-details/
Sunset http://www.golflongmont.com/sunset/
Ute Creek http://www.golflongmont.com/ute-creek/